Translation by Sebaste Winery
A brave pioneer and forerunner, a stubborn  deeply in love of his work and of the Nebbiolo's perfumes, and of the smart youth conquered by the same love for the vineyard, the earth on which  grow and the wine.In a kind of epigraph style, this could be the resume of the story of the premium Sebaste winery (and family).
But behind the synthesis there is also a sea of stories to tell. First of all about of Tersilla, known as Sylla, the progenitor, eponymous founder of his winery , a Barolo woman (extremely rare )  well before the riser "Barolo boys" wave (now  merged for  the largest part in "Langa In" and protagonists of the area vamp, flag vine and relative jewels in the bottle) and unfortunately  prematurely.death.
A difficult moment, to which others,  will hook, also very bitter: incomprehensions and ordeals with different partners entered in the company capital, and culminated with the necessity and the decision (at that time "heroic") of thr son Mauro of leaving  and refounding all, pratically starting  from zero.
Even in the name, the founder's one,  brand linked with the old family company and so even it  got out of hand.
Starting again from zero  is a hard sport. But you have time for thinking. And for enhance what no material difficulty can strip you: the so called "savoir faire", the ability tied and rooted on your microworld, your operating habitat, that natural dowry that  French include in the word "terroir" as  essential component as earth, grape and climate.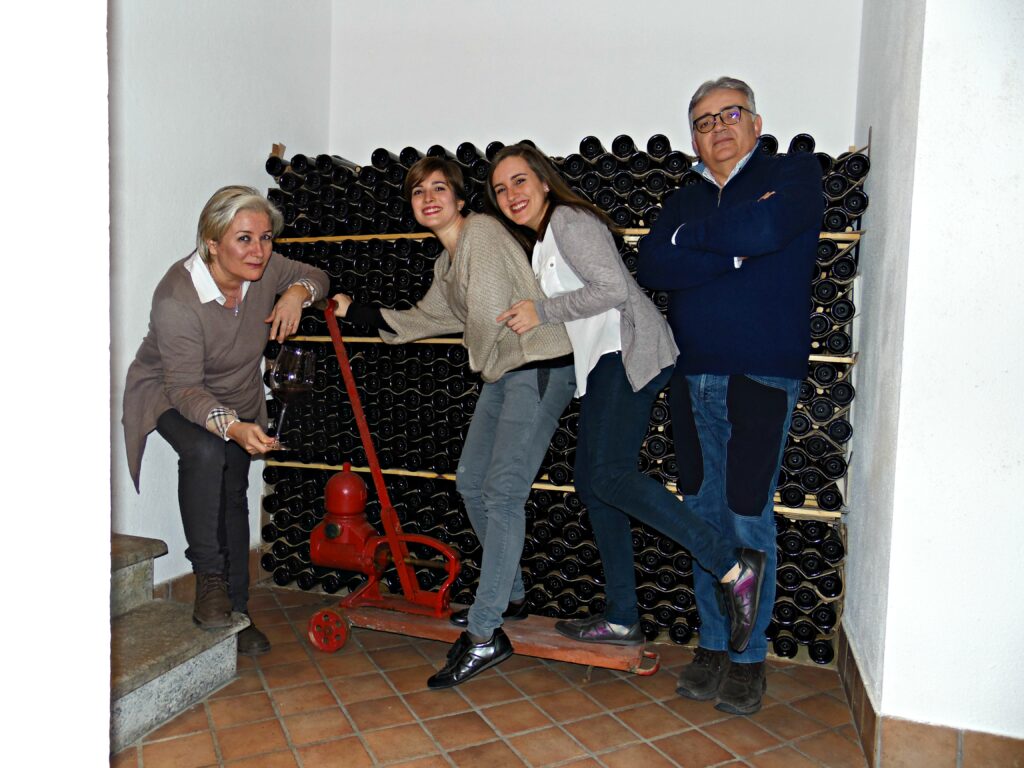 And here it is, step by step, he reconquest.
Now sunny vineyards after having restarted for a while with purchased grapes.Little by little more solid certainties supported by results.
Nowadays at Mauro's side there are  Maria Teresa (his wife), the daughter Angelica and the sister Sylla (the "new"), nephew and heir,
young and firm,  passionate narrator of her father's work  in vineyards (personally tended  with maniacal attention) and in the cellar, where  privilege and primary target is focused on the integrity  profile of each grape worked, over all obviously Nebbiolo da Barolo.
After the slow work of reconstruction now the company reality counts 30 hectars in property and retails, but personally managed. And this runs over various areas homologous for quality but very different: Alba, Serralunga, Barolo, La Morra, Verduno, Vinchio, Diano d'Alba, Montelupo, Mango, Piobesi and Vezza.
The wines produced goes from Dolcetto to the single vineyards Barolo, going through Barbera, Nebbiolo and Barolo classic (the old way of producing Barolo) every one with an absolutely unique and recognizable skill, but all sharing the same peculiarities of style and quality of "Mauro Sebaste production" talking nones, eloquent, elegant, identity, that could be even sold in ampoule of terroir essences.
Here the  detail of some label:


Casa Berzia 2019, Dolcetto with home in Diano d'Alba, grapes coming from 500 mt above sea level, only steel, 6-8 days of extraction, zero characters of coarse sweetness  (as  you can find many) but fruit and finesse, and an onomatopoeic final "zic" that makes of  a fresch tasty wine for every food
Centobricchi, opposite place (Alba and Diano), calcareous soil,  same vintage of the Nizza,  same cellar processing  (steel and tonneau, with one year of rest) but a wine  that makes you feel a completely different style. The wild blackberry underlines the nose accent,  playing on blue more  than red, but then opening also on  seductive notes slighly softer.

The distinctly elegance of Parigi (the charm from where comes the name ), Nebbiolo d'Alba 2018 with grapes coming from Alba e Diano,  malolactic fermentation  in tonneaux, partly  American and  French wood, in which fruit and violet flow  parallel and of opposite color (darker the one tissued of soft notes of toast and liquirice, very clear  delicate and not invadent the one of spices that remind to vanilla).

In the end Barolo. Both from vintage 2016.
Tresuri, that means three vineyards, three different areas harmonized innone wine following the founder receipt as the Barolo wos produced before the second revolution in the 80s and 90s. 15 days of contact with skins, big barrels and carati (even here following the classic method) for 3 years, ballanced and drinkable already from the market releasing veined of typical fruits and underwood notes, pleasant without subsidence.
In the end  Cerretta, a Lord  from Serralunga interpreting the soul with
force and elegance togheter, describing well the soil (calcareous and ferrous) and the serious tannin texture. 15 days of contact in steel, then big barrels and tonneau from Alier of 400 liters wisely mixed following  the style of the vintage, and the wine comes out dressed as a king: roses, mushrooms, humus, underwood flavours. Austere, typical of his homeland" traditional, authentic, seductive, from now with a lot of street in front of him.
With landscape – that the time will return even more colored- over the best of Langhe and Barolo

Iscriviti alla Newsletter
Aggiornamenti continui sul mondo dell'enogastronomia